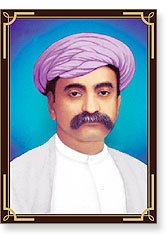 Over the years, some rare cultural events have occurred in Gujarati language and literature. The publication of 'Bhagavadgomandal' is in the forefront in these events. With 2.81 lac words and their meanings, this dictionary contains almost 8.22 lac words, spread over nine big volumes and nearly ten thousand pages. The process to prepare such magnum opus was undertaken in Gondal, a small princely state of erstwhile Kathiawar. (Now it is a taluka place in Rajkot district.) This whole exercise had consumed a long period of twenty seven years. In English language, the world do have 'Encyclopedia Britannica', 'Webster' and 'Oxford Dictionary.' The 'Bhagavadgomandal' is not only comparable with these encyclopedias, but so far as Gujarati language is concerned, it gives rare insight on many words. Mahatma Gandhiji, while blessing this adventure had written a letter to its editor, Chandulal B. Patel, that "…I am spellbound with your adventure and it will serve our mother tongue in a big way."

The nine volumes of 'Bhagavadgomandal' were in the list of rare books, because only 500 copies were printed of its first edition, and by 1958, all these copies were sold out. However, due to industrious sense of Gujarati publisher, known as 'Pravin Prakashan Pvt. Ltd.' has dared to publish two more editions in the years 1987 and 2008 respectively.
We can describe 'Bhagavadgomandal' in nine different ways: It is an Encyclopedia, Sea of Wealth, Pride of Gujarati language, a great dictionary, non-exhausting treasure of knowledge and cultural volume. The nine volumes of this 'Kosh' are like roaring ocean of words, because here different meanings of the same word have been given on an extensive scale. In this dictionary, the routine words as used by the mass have been recorded. Such process has not been observed anywhere else.
In day-to-day conversation, we people hardly use about 1500 to 2000 words. While in this 'Kosh' original 2.81 lac words are included, which gives us the estimate of the richness inherent in our language. The words which are rarely used or forgotten in our mother tongue are meticulously recorded here. That is why this 'Kosh' is not only the rare collection but a cultural volume.
This 'Kosh' includes information on various Religions of the world, History, Geography, Art, Culture, Music, Trade and Commerce, Medicines, Ayurveda, Sculpture and Architecture, Vegetables and Horticulture, Recipes, Yoga, Diseases, Birds, Animals, Lunar mansions, Poets, Authors and Saints. Therefore, it is not a simple dictionary, but an encyclopedia.
The information given here has passed the test of the time. In spite of the fact that after its first publication before six decades the basic information given in the first edition has not changed in any way. This proves the farsightedness of its editorial board.
The 'Bhagavadgomandal' includes idioms also. A total number of 28,156 idioms and more than 10,000 proverbs are placed here. We can easily presume that this 'Kosh' will enlighten Gujaratis in every corner of the globe wherever they live.